I've started a new illustration project a few months ago, once again fanart-based and following the ABC. It's a good frame to get me drawing: serialised, with a clear end point, and otherwise completely open; which is why I always add another "rule" or two to get some more focus. In the last one it was two characters per letter, with a secret connection between each following couple. This time it's a character, a verb, and a giant-sized food item, all starting with the same letter. It's strange up in my head, but also very organised.
Here are the first five. In days long past I would upload each one in its own blog post, but today, with so many quick channels for sharing things, it feels more cumbersome than ever to start a new post for every single piece. That's my long-winded way of inviting you to follow my Facebook page if you want to stay up to date.
Let's see, what else is new…
Up to Four Players
We're just starting a new story arc over at Up to Four Players. It's one about conventions, fandoms, cosplay and family, and it has a lot of colourful hoops. Like, A LOT. Many more than I would have put there had I given some thought to how long it's going to take to draw all of them in every single panel. But what doesn't kill you makes you stronger, or at least slightly averse to the colour magenta.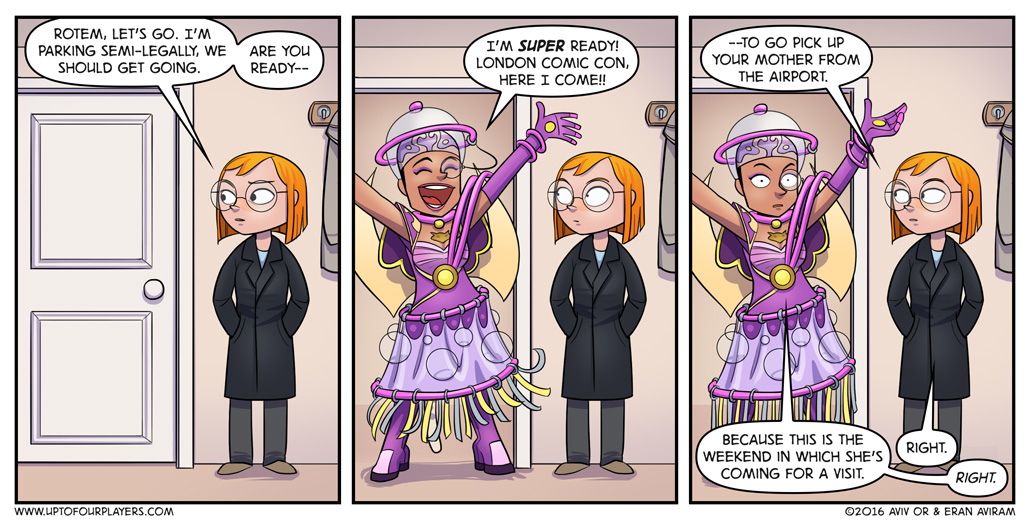 Noisy Person Cards
James and Kat, from the podcasts One Shot and Campaign that I must have mentioned before, are in the middle of a Kickstarter campaign for their new game NPC – Noisy Person Cards, a party game for improving your character voice acting. We at Up to Four Players tried the beta version (see us on the Tube) and it's super fun, so I'm really looking forward to the final product, which will include a lot more illustrated cards from various artists, myself included. Check out their Kickstarter page, and if it sounds like something you might enjoy, consider backing!
Completely unrelated to their game, I've also done some more fanart of their Edge of the Empire party on the Campaign podcast, with clear Zootropolis influences. How awesome was that movie?
See ya in…a few months, evidently!
Aviv